Episodes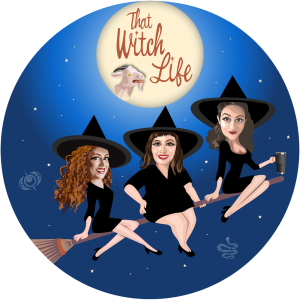 Monday May 09, 2022
Monday May 09, 2022
Get your tickets to LOL! And Trouble--our live, virtual conversation with Paige Vanderbeck of Fat Feminist Witch: June 10, 6pm, Pacific time! A Witch Wedding Episode!!! Liz Williams, Priestess and author of Modern Handfasting, talks with us about her new book, as well as the history of handfastings, what to do when things go wrong on the big day, and some delicious disaster wedding stories. We also explore a few warnings with regards to love Magick. Digressions include our dream Vegas vacations, Courtney's COVID drama, Hilary's tooth and vocal drama, and Kanani's nail and missed soccer game drama. Plus, Kanani's recent food poll. A listener wants to make their Magick more powerful. How can they do that? On Extended, Ad-free version on Patreon: Kanani's continued Supernatural exploration, cool British accents, handfasting cords, and legal credentials for handfastings.
Visit Jasmine Pearl Tea Company and treat yourself to a beautiful blend. Save 10% with coupon code WITCH2022!  
Download the free Pagan Almanac app: a Mobile Swiss Army Athame from the Apple App Store for iOS!
Save 20% now on Modern Handfasting at www.llewellyn.com when you use code HAND20 (that's hand two zero). Coupon valid through 5/31/22; not valid in conjunction with other discounts or previously placed orders. Note that you do need to be logged in to your llewellyn.com account for coupon to apply.
Show notes and audio transcript at thatwitchlife.com
Support the podcast:  patreon.com/thatwitchlife
ko-fi.com/thatwitchlifepodcast
etsy.com/shop/thatwitchlifepodcast